The regional finals of the National Hardware Cup were in DC the other night—a business pitch competition for hardware startups looking for fame, fortune, and funding for their burgeoning enterprise. Here's what went down.
About the cup
The National Hardware cup is a funding competition for hardware companies started by Pittsburgh based startup accelerator alphalab gear. Anyone with a startup focusing on a physical product can enter one of nine regional competitions. From the online pool of applicants, six are chosen to pitch their idea to a panel of local VCs and market leaders who will select one to go to the national competition. This is the second year that it has been held.
Last year's winner was Curb, a smarthome power management startup. A rundown of the regional winners and their ideas from 2015 can be found on the Pittsburgh Tech.co blog.
The DC Regional Finals
The DC event was well over the capacity in the TechShop Arlington meeting room reserved for the occasion. A sizable spillover crowd watched remotely from the lobby as the event began. TechShop had food and drink at the ready for those who chose to brave the semi-plowed streets and crazy DC traffic to attend. A late start to allow all attendants to prepare enabled some pre-game networking. The crowd was a mix of specialists from hardware, business, software, finance, and general technology. Pretty chill, some great conversations to be had.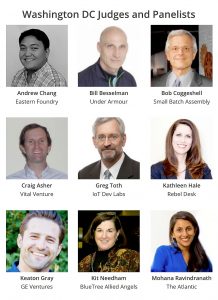 The evening was split into two parts. The first was a panel discussion about building successful hardware startups. This was followed by the pitches—each of which was limited to 4 minutes—followed by 5 minutes of questions by the local expert panel.
Building a successful hardware startup
The discussion panel was comprised of Bob Coggeshell from Small Batch Assembly, Kathleen Hale from Rebel Desk, Keaton Gray from GE Ventures, Mohana Ravindranath from the Atlantic, and Greg Toth from IoT Dev Labs—a sub set of the DC judging panel.
What's exciting you right now in IoT or hardware entrepreneurship?
Better information coming out of supply chains. Sensors and systems are relaying better and more meaningful data to core products that enable faster decisions and greater efficiency.
Some of the things DHS is doing with wearables—look for an evolution of fitBit like devices that track the environment as well as deeper biometric information. Cool stuff with biometric authentication here as well.
The new form factors enabled by flexible electronics.
Hardware alternatives to software interfaces. Things like Amazon Dash or Echo.
Augmented/Virtual Reality systems.
So, you have an idea, you built a prototype, what's next?
Talk to your customers. Pre-sell if you can. Establish clear product/market fit.
Know what your marginal cost is over time and what your product evolution looks like along with estimates for that cost.
Get your business model worked out and test it as much as you can.
Mind the gap between an OTS solution (arduino, rasp pi) for prototyping and the final product form factor. It's often bigger than you think.
Prepare for the inevitability when you're competing on price. It will always happen eventually.
Think about working with a small run group or joining an incubator. It's more about the expertise and network than the financial help.
What are some of the specific risks associated with these ventures and how can you avoid them up front?
Risk of Competition: strong IP strategy, good partnership management.
Legal/Regulatory Risks: actively pay attention to what's going on, hire a good firm, know your markets and their rules before committing to them. Over-test for compliance and document everything.
Product/Market Fit: good segmentation, testing, and networking.
What's the difference between pitching a journalist for a story and pitching an investor for money?
Build relationships and partnerships with journalists well ahead of time—well before you have a story.
Know your audience and focus your pitch.
Develop a network of journalists for whom you can answer questions, provide briefings on background.
Honestly, it's not all that much different!!
What does the DC ecosystem offer product based entrepreneurs?
Three unique spaces dedicated to makers: TechShop, NovaLab, and HackDC.
1776 and other incubators, tech groups, and meetups. An extremely rich area.
Access to associations and lobbying efforts along with great legal representation.
Rich network of facilities for compliance testing, especially in biotech.
An extremely highly skilled workforce.
Great VC and angel opportunities for the right companies.
What are the biggest barriers to IoT adoption?
Security and privacy.
Compliance.
User acceptance. There's an uncanny valley here.
The pitches
The Problem: Paper construction plans suck. They're always out of synch with design, they are weak, version control is a nightmare. Too error prone.  Other digital efforts have failed because tablets and laptops are relatively fragile on a construction site.  Plus, small form factor.
The Solution: A flexible, tiled array of e-ink based display panels that are rugged enough for job sites, large enough to communicate well, and digitally savvy enough to always be up to date.
The Benefit: Save money by lowering mistake costs, hardware replacement.
The Problem: Asset tracking or management with RFID requires two pieces of equipment, near proximity, and is limited in signal bandwidth or data transmittal.
The Solution: BLE pods that can transmit data without a query/handshake, a centralized reporting system (cloud node) that works 24/7/365 to provide real time information on location, status, or deltas in any variable proactively in any environment, even remotely.
The Benefit: Better information leading to shorter decision cycles, greater utilization of infrastructure, and operational efficiency.
The Problem: Men don't take a strong lead in contraception because their options result in discomfort or less than optimal sexual experiences.
The Solution: A non-hormonal, non-surgical, long lasting, semi-transmissive, temporary plug inserted into the vas deferens.
The Benefit: Effective, long-term contraception for men as an alternative to surgery.
The Problem: Signal testing and monitoring in optical data systems is expensive—requiring outsized and unsupported machines.
The Solution: Cheaper, smaller, custom testing and monitoring devices that save time, money.
The Benefit: Lower costs, improve system efficiency.
The Problem: Access to drinkable water is difficult in many areas of the world due to safety at source and transportation problems. Current filtering and safety measures are error prone, slow, or unwieldy.
The Solution: A low cost, easy to deploy, simple to use water purification and transportation mechanism in the form of a large hydration pack with included filter.
The Benefit: Clean, transportable potable water for more people.
The Problem: Building systems are either dumb or aren't integrated with each other requiring frequent physical inspection and on-site data collection.
The Solution: A platform of device sensor integration devices that collaborate and communicate on a central reporting and management system.
The Benefit: Better information leading to operational efficiency, better decisions, and lower staff costs.
The winner(s)
Audience Favorite: Rorus
DC Regional Winners: Printless Plans
Key insights
This was one of the more mature and well thought through group of pitches I've witnessed in the last few years. Going to DC Tech and other meetups is great to hear pre-angel or seed investment ideas, but once companies get past that point, the public doesn't often get in the pitch cycle.
TechShop is really damn cool. I knew these spaces were popping up in the area, but I rarely make it out to Crystal City, so I'd not been been over to check it out yet. If you need on-demand access to cutting edge prototyping equipment or processes, this seems to be a good option. Also, classes. While I was less impressed with the "make a belt" class in leather works, there was a tig welding class that caught my eye and imagination. If nothing else, I now know where to go when I want access to a CNC machine or high end 3D printer.
The winning product had the best pitch. They had a product that solved a clear, niche problem in a large industry in a unique way that was unlikely to be copied by large players who have similar products but more capital and capacity to move into the space should it be lucrative. It provided a clear benefit to the customer and was in field tests with pre-orders in the mix.
There was some surprise that the audience favorite wasn't the winner, but that's the trick of these competitions. What sounds like the best product to the crowd isn't always the best investment opportunity for capital growth. Your heart wants clean water for everyone on the planet—the benefit is clear and easy to understand. But what if the product is risky from a regulatory perspective, might be easy to copy, and adoption is dependent on making a much more compelling competitive value proposition than the one we heard? Faster water filtration isn't that big a deal, is it? If not, can you really charge that much more for it? If you can't, then you're competing on price and you better hope it costs less to produce your product than the competition.
I was a bit surprised (on hindsight) that there weren't any consumer facing products (other than male contraception, though that's already questionable as a physical product in my book) leveraging IoT, VR, AR or other new(ish) tech. It would seem that the DC area is far more B2B than much of the rest of the country. Or maybe these type of competitions attract that kind of business model.
Either way, the scene is a lot more active than I though it was. I'm looking forward to the next IoT meetup.