Today James Murphy published a lengthy blog article giving background to the recent announcement that he and the rest of LCD Soundsystem would be headlining Coachella this year. Fan responses have been mixed which is frequently the case once a band says "Goodbye"—especially one that did it so dramatically with a series of New York concerts in 2010 ending with a nearly 4 hour long show at MSG featuring every song they'd ever released.
So why am I so excited about referring to them in the present tense again after 5 years when I've been so reluctant to return to another band I used to love (Phish) upon their return following a similar goodbye concert? Naiveté?
Beginnings
The first and only time I saw LCD Soundsystem in concert was on a double billing with MIA at the 9:30 Club in Washington, DC. My wife was quite pregnant with our first daughter (who's now 10) and we've always joked with her that it was her first concert. She doesn't think we're as amusing as we find ourselves.
To be honest, while I liked them at the time, I was more excited for MIA. That all changed when they started playing. It didn't take long before they were one of my favorite bands.
The first time I saw Phish was during the summer between my junior and senior years of college in 1993. I had a good friend who was a huge fan and excited to share them with me. The show was just outside of DC at a venue called Wolf Trap—an outdoor performing arts venue that's part of the National Park Service. It's a beautiful place to see a show in the summer and this concert was no exception. It was the first of a run of twenty+ Phish shows I'd see over the next ten years and it's still one of the best I've seen.
Want to see a list of the concerts I've seen?
5 or 10 Years
I saw Phish play in New York City, Hampton Virginia, Prague, Penn State, Washington DC, Oswego NY, at festivals (they don't headline, it's all Phish, all day) clubs, arenas, and college auditoriums. There was something about their instrumentation, the rhythms, and the sheer joy they conveyed when they played that was contagious. Their music seemed complex and rewarding—musically challenging by one measure, simplistic and silly by another. I was never attracted to the scene, it was always the music, the groove. I listened to a lot of other bands at the time, but these guys were on heavy rotation.
In 2004, ten or so years after my first show, Phish held a festival in Coventry, VT. We bought our tickets and made the pilgrimage. We had been to a few festivals in the past and we were going with our friends who were pros at the whole thing at this point, so we felt prepared for anything that we were going to have to deal with.
Except, perhaps, two solid weeks of rain that turned the entire festival grounds into a mud bog more appropriate for rice farming than parking cars or, say, walking.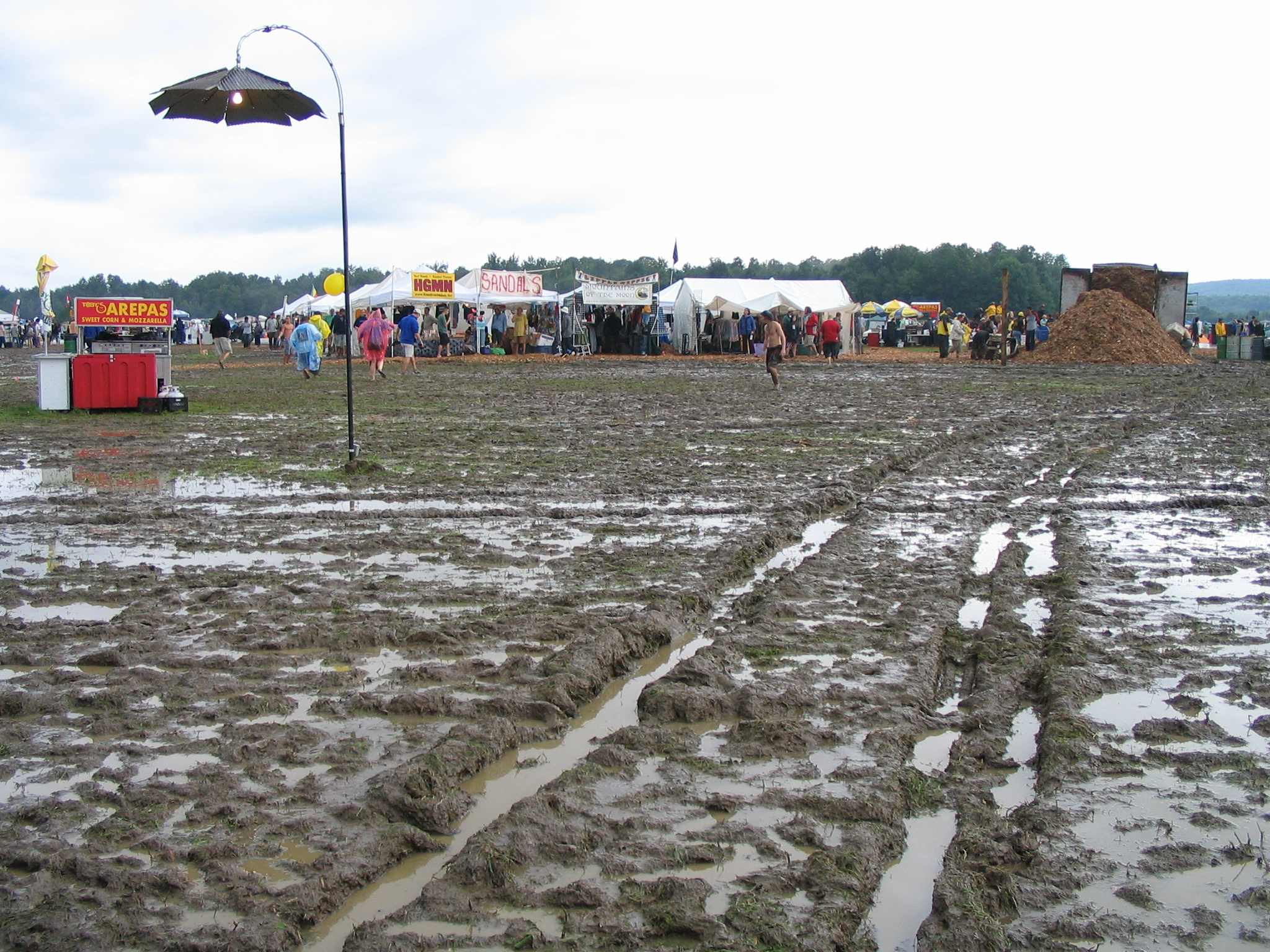 Now, you may be thinking that every festival has a run-in with mud. Yes, they do. The singular difference here was that the band had leased farmland for this festival. Farmland that was soft, and rich, and full of… well, you know what they use to help plants grow, right?
We were some of the lucky ones who got into the festival before they started turning people away—if you consider having your car towed to the middle of a mud pit by a farmer in an oversized tractor because that's the only way they can park your car "lucky."
We found a relatively dry spot to set up our camp and made the best of it.  We were better prepared than most having a camping shower, the right footwear (we heard rumors of trench rot over the weekend), and enough food and water that we didn't need to go anywhere or buy anything.
And then we went and listened to the most mediocre sets of music any of us had ever heard the band play.
We all knew at this point that the show was a goodbye. Trey had announced an official end to the band following years of intermittent haitus so we all knew it was over.  It was sad, but part of me felt like it was time. The band didn't have that joy anymore, and neither did I.
After we left, I would occasionally pull out a show to listen to or throw on a scratched copy of Nectar or Farmhouse, but I had made a mental shift away from jam music for the most part, and they were the last jam band I was interested in.
One of the new bands I started hearing about was LCD Soundsystem.
I got that first double CD because Pitchfork made such a big deal about it and frankly, it sounded awesome. During one of my Tower Records music binge nights (Tuesday new releases!), I picked up my copy and it became a quick favorite.
We attended the aforementioned show, and they became even bigger. Their presence was huge. They filled the 9:30 club like no band I had ever seen. Their music was enormous, it was infectious, it was raw, it was danceable, it didn't take itself too seriously, and it was exactly what I needed right at that moment.
Over the years as our daughter grew and we had a second, my career progressed, and we worked on making our house a home, new music from LCD Soundsystem was always a highlight—something we could both get excited about. Concerts were difficult, and the band would sell out before we could get tickets. We never saw them again live, in-person.
And before it was time, or rather before I was ready, they were hanging up their coats and calling it a day.
In 2010, the band announced that they had written all they were going to write, that they didn't want to get any bigger, and so they'd go out with a bang: a big blow out at Madison Square Garden.  Of course I wanted to go. First tour, last tour… perfect bookends. Besides, they had essentially sountracked the prior 5 years of my life. How could I not?
Apparently I wasn't alone.
Due to the overwhelming desire for tickets and the utter incompetence of the responsible ticketing agency, few got their golden ticket. So more shows were announced leading up to the big one. I tried to get seats for any of them and was unsuccessful.
The final show was broadcast over the internet, and we watched much of it's terribly pixellated, awful sounding stream the night it happened. It was bittersweet. I really didn't want it to end yet.
The Comeback
If you followed the Phish saga after that final show, you probably know that one of its members ended up with some drug problems that put him in rehab for a stint. Each of the members began solo careers or new bands. None of it really spoke to me. Partly because I was over Phish (kinda mad at them, but that's silly), and partly because I didn't really like the music they were producing all that much. I'm sure it's great stuff, just not my thing.
In 2008 they announced a reunion tour for 2009. They'd be playing Hampton Coliseum, a mythic venue for Phish fans, and one I'd been to a few times. My friend called—did we want to go?
Nope.
If you followed LCD Soundsystem since they broke up, you'd have listened to Museum of Love, The Juan MacLean, or James Murphy remixing tennis matches for IBM.
Yesterday it was announced that they were playing Coachella. Today the band announced they have an album they're working on and that they're going to be doing more than playing Coachella—they'll be doing a full tour.  Am I in?
Hell yes.
But Why?
I've thought about this a lot, and I think it boils down to a few things.
I wasn't ever finished with LCD Soundsystem.
They hadn't peaked yet, in my opinion. While I personally felt like This is Happening was a slight step back from Sound of Silver, it still felt like they had a lot to say. The sound was just maturing and for a band who only had 3.5 albums (does that Nike running thing count?) there seemed to be a huge space in which to play. Phish, however, had 10 studio albums under their belt, the last three of which were almost unlistenable to me. To my ear, they peaked at Farmhouse. By the time I went to the last show, I hadn't heard them release music I was excited about in four years.
Phish got too darn big.
I'll be honest here. There aren't many bands that got as big as Phish who've handled it as well as they did. But at some point it became a scene, not a concert. The band seemed to lose their joy in playing. Jams went on in pointless circles, and even the old songs started to feel tired. Maybe they toured too much.  Maybe 20 years is just too long for any band to stay good at being a band. LCD Soundsystem never got that big. Though they ARE headlining Coachella this year… perhaps I have to rethink that assertion.
Phish became a business.
If you're that big and you've been around that long, it's probably inevitable. I used to get a crazy newsletter from them called Doniac Schvice once a quarter or so just checking in on the band. Now everything they do is monetized at every turn. (Remind me to see what those old newsletters are fetching on ebay… I still have mine.) LCD Soundsystem always felt like your best friends all started a band together and wrote music about the world you shared. They never outgrew that. For proof, read the article James Murphy wrote about their reunion. It's honest, it's raw, it's like a note from a friend. Perfect.
Phish is a Nostalgia Act.
I have actually seen Phish play since their reunion. They headlined Bonnaroo the last time I went to that festival in 2009. It was a fun show, I'll totally admit it. I danced like an idiot just like I did when I saw them in 1994. But it was a total nostalgia trip. I wasn't engaged or excited by something new—it was the old songs that I knew by heart that got me going again. If LCD Soundsystem comes out with an album that is a rehash of anything they've done before, I'll be a very sad puppy. Something tells me they won't.
I'm An Adult Now.
This isn't to say that if you still enjoy Phish, you're not an adult. Far from it. But adult me doesn't get into the same things that college me did. I don't spend all night in an art studio painting. I don't hang out in the quad playing hackey sack. I don't lay back on the hood of my car staring up at the stars debating the meaning of life with a good friend (though sometimes I think about it).  LCD Soundsystem sounds better, feels better, and aligns better with where I am in my life—or at least where I was 5 years ago when they broke up.  I still listen to their music though. One of my favorite songs of all time is All My Friends. If I have a happy song, that's the one.
How Naive am I Being Right Now?
This reunion is going to totally suck, isn't it. Name a band who's pulled this off. It wasn't Phish. Not James. Not the Pixies or the Breeders or the Feelies. It's not going to be Guns and Roses at Coachella. So why do I have faith in LCD Soundsystem?
Because I do have faith in this band—along with a dash of hope, some desire, and a basic gut feeling that they whatever they do, it's going to be interesting, even if I don't like it.
At least it seems like they're doing it for the right reasons.
Anyone want to sponsor my ticket to Coachella so I can find out?  🙂
Music Featured in this Article: